Bitwarden Free Download
Security is compulsory everywhere. Regardless of using so many security functions like two-factor authentication and end-to-end encryption wherever you go online in these modern days, yet to ensure one's security passwords are the very first step taken at all times. While you log in to a website or app, you use a password for safety. It's so important that you should use different passwords to different places, as you could own more than one account. Therefore, it would be best for you if randomly generated passwords are used for all accounts you have. Apart from that, it's indeed difficult to remember loads of passwords for a person. The longer the password is, it becomes complicated to bear in mind. Hence, you need a password manager that works on behalf of you to remember passwords. Yes, it is about Bitwarden that could help you out with the best result.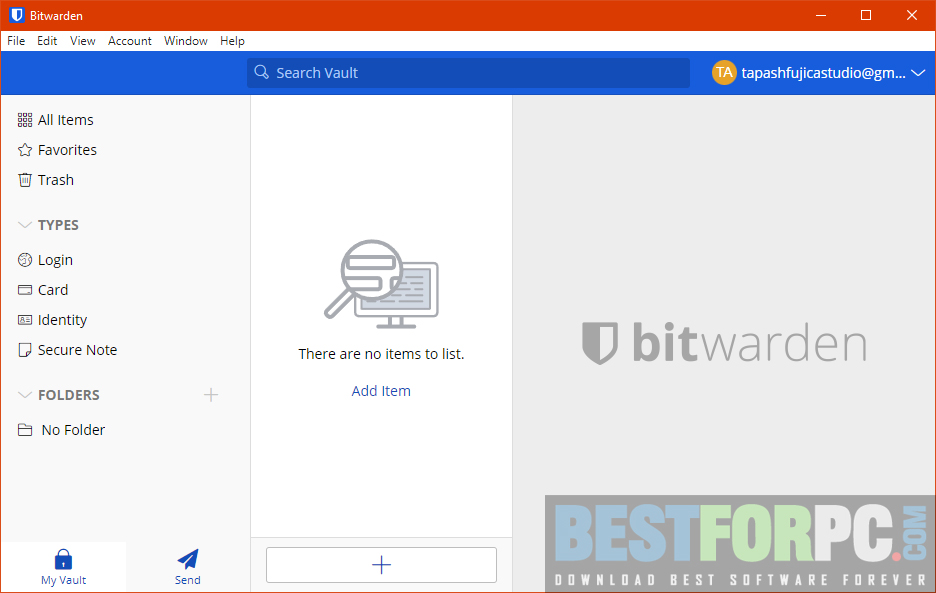 Initially, Bitwarden was released as a browser extension and a web app and is popular with users. Later, the developers bring their desktop app containing the same core functionality as the extension. People who use the web-based one will feel it similar. After you have installed this app, you will require an account to get into it, so make your own, and others who already have can go straight to log in and sync with their previous online vault with the local one. No further processes need to perform. Once you enter the app, you will be presented with the main window that is smartly divided into three different panels. The first panel allows one to navigate through all the stuff in a secure vault, manage folders where all data is kept organized, and access the Favorites section. And the others contain different possibilities that can help in various cases.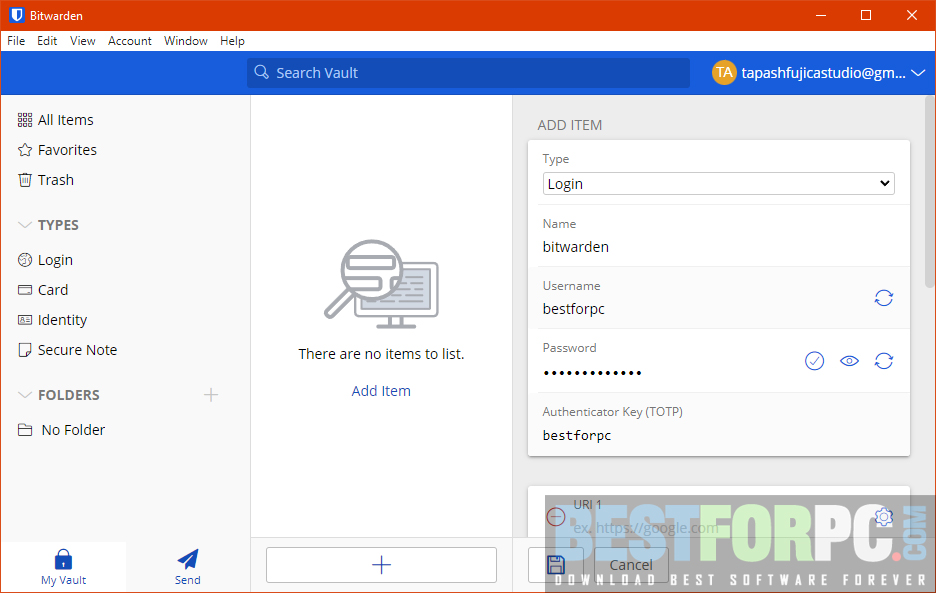 The reasons behind Bitwarden's popularity are to be an open-source platform for security and end-to-end encryption for all vault data. It generates complex passwords for any account and lets you manage them to avoid password-losing. Thanks to its secure vault, where you can save your login information, username, passwords, bank account, credit, identity cards, private notes, and other information. Keep them safe to get rid of the people with prying eyes. You can also select attachments and custom fields for all the items in the vault. Try LastPass, which is another best password manager
Bitwarden uses end-to-end encryption, meaning it is not permitted for anyone at any cost to access your data in the vault except you. You use passwords for security, but what about the security of your passwords and other crucial information? It is not impossible to get your data stolen nowadays. As security breaks happen and your passwords are stolen. That's why the app encrypts every time you store something in the vault and thus restricts everything from others but you using your email and master password. Not even Bitwarden is able to see your information. They include AES-256 bit encryption, PBKDF2 SHA-256, and salted hashing to cover up your sensitive data with security.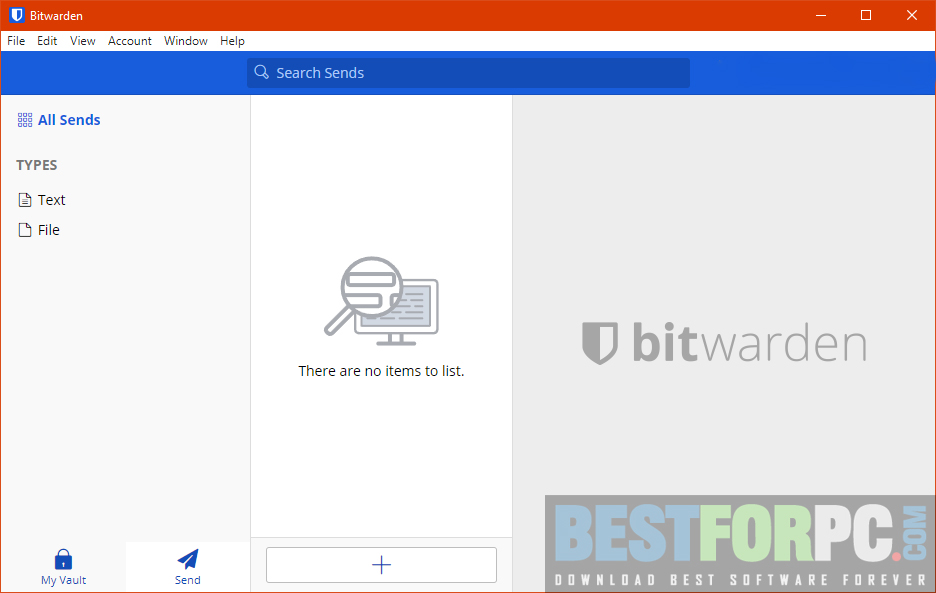 Bitwarden is an open-source password management tool, and its source code is hosted on GitHub, making it free for everyone to access, review, audit, and make changes if needed. Apart from that, you can join the global community of Bitwarden and meet people using the app and also with security professionals. Share and gain knowledge, get different support, and much more. You can also try 1Password for your PC
In the end, Bitwarden is better than most password managers in the market. It can compatibly work with multiple operating systems and all major web browsers. So, because of cloud synchronization, you can access your data from any device you have and anywhere. However, some great features are missing in the desktop version but available in the web-based app, like account deletion, options for session deauthorization, data collections, vault cleanup, and import and export. So, if you are using its browser extension beforehand, you will miss some regular features in the app.
Bitwarden Password Manager Free Download Technical Setup Details: 
Full Software Name: Bitwarden Password Manager
Software Version: 2022.6.2
Full Setup Size: 715 KB
License: Freeware
Developer: Bitwarden
Bitwarden Password Manager Free Download System Requirements:
Operating System (x 86 or x64): Windows 7, 8, 10 & 11
Memory (RAM): 6 GB of RAM (recommended above 8 GB)
Hard Disk Drive (HDD/SSD): 10 GB of available space (recommended 25 GB)
Processor (CPU): 64-Bit 1.4 Gigahertz (recommended 2 Gigahertz Dual Core)
Bitwarden Password Manager Free Download
Click on the underneath button to download the latest version of Bitwarden from this page and get a trusty and secure opportunity to generate and manage passwords. Bitwarden comes with different paid versions in the concern of your family and business; switch to premium versions, and access more possibilities of security over your online life.