MuPDF Free Download
Download MuPDF Free for Windows PC from Best for PC. 100% Safe and Secure ✓ Free Download (64-bit) Latest Version.
MuPDF Free Download
MuPDF is a small, lightweight tool to view PDF, XPS, and Free eBooks. It brings the basic way of viewing the content of any PDF file. This PDF tool contains viewers for different platforms, command line tools, and a software library. Anyone can handle PDFs effortlessly, even a new user. It barely uses your system resources and lets you view whatever documents you have. It aims at providing you with top-grade anti-aliased documents. MuPDF Viewer renders text with metrics and spacing exactly inside fractions of a pixel for the utmost reliability in recreating the appearance of a printed page on the screen. You don't need to install MuPDF because it is a portable program. So, you can keep this app on any removable device, for example, a USB flash drive, save its executable file to the PC and run it directly. Download this eBook Viewer and eBook Reader MuPDF for your Windows PC.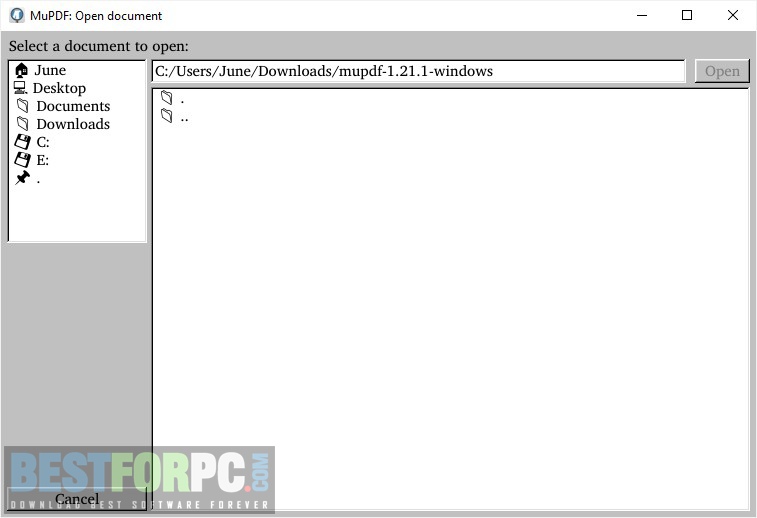 Endless paperwork for individuals and businesses requires advanced tools available on Foxit PDF Reader and Adobe Acrobat. If you intend to use something other than such significant software, then you must go with a basic PDF Reader like MuPDF Viewer, that not just allow you to read PDF file but also opens, view, and read XPS and Free eBooks. This PDF reader is complete and still small that operates quickly. It is compatible with many file formats for documentation, for example, PDF, EPUB, XPS, CBZ, OpenXPS, and FictionBook 2. The command line provides tools like annotation, editing, and converting documents to supported formats like PDF, CBZ, SVG, and HTML. Available on mobile viewers MuPDF Android, one can annotate PDF docs and fill forms, which will also be available in the desktop viewer soon.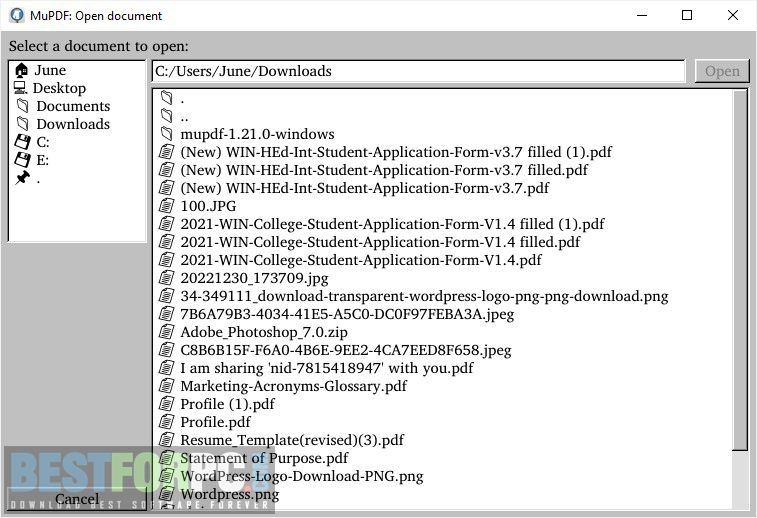 When you enter MuPDF Viewer for the first time, it prompts a file browser dialog used to find and open a document. A simple user interface lets you explore through its standard window; options are embedded within to locate and use. Several key shortcuts can be discovered for easier use, such as using the dot and comma buttons for Page Up and Page Down, plus right and left arrow keys to switch between different pages of the PDF file. A search function gets integrated with this PDF Reader, and pressing the 'F1' or '?' button will find you a line or word; this feature can help locate and highlight the first found entry. 
Moreover, you can use the '+' and '-' signs on your keyboard to zoom in/out of documents. Use the 'F' key to go to the full-screen mode, the 'A' key to rotate the page left, and the 'S' to rotate the page right by 15 degrees. Other features of this eBook Viewer MuPDF include a greyscale or negative effect to apply on your document using the 'C' and 'I' keys, respectively. Besides that, you can jump backward or forward up to ten pages, adding bookmarks to specify a page for later reading. MuPDF Viewer allows it to use Javascript and write scripts for manipulating documents. This program uses portable C to modularly write the library, letting you include and remove features accordingly through integrators. There has a Java library with JNI that works well on both Android and Oracle's Java.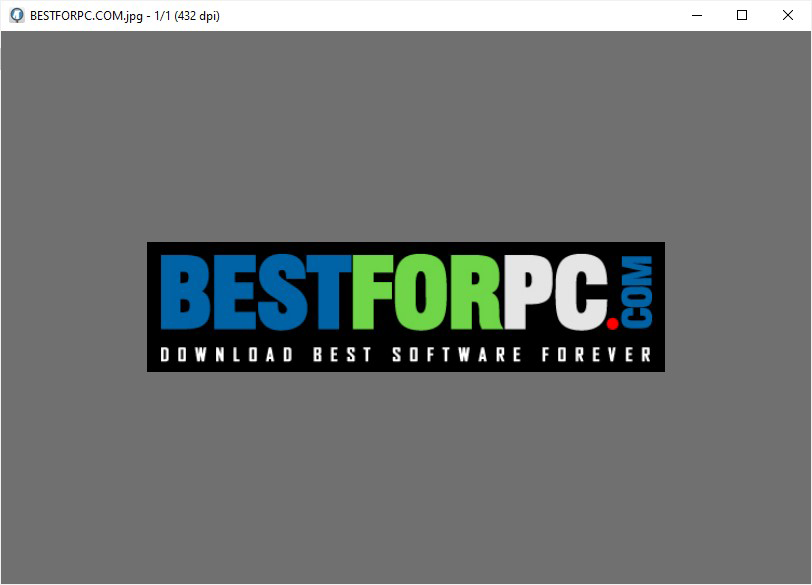 At the day's end. MuPDF is a somewhat basic tool to view and read supported documents for using coming for the first time. Tech-savvies prefer advanced features, and they can search for other solutions matching their requirements. Basic users download and run the app without a bar or control, causing difficulty reading docs. People who are eBook readers can download their favorite Free eBooks online and read in MuPDF Viewer. Download Calibre to get Free eBooks to read
What's New?
Garbage collection issue affecting file bloat on clean

Don't layout blank docs

Don't assume organized objects in pdf-objcmp

Added type 3 font character boxes
MuPDF Technical Setup Details: 
Full Software Title: MuPDF

Software Version: 1.21.1

Full Setup Size: 55 MB

License: Freeware (AGLP)

Software Developers: Artifex Software Inc.
MuPDF System Requirements:
Operating System (Windows x64): 7, 8, 8.1, 10 & 11.

Memory (RAM): 512 MB of RAM

Hard Disk Space (HDD/SSD): 100 MB of free HDD space for installation

Processor (CPU): Not available
MuPDF Free Download
Download and get the most up-to-date version of MuPDF with new updates and features. It is available for free and open-source, distributed under an AGPL license.