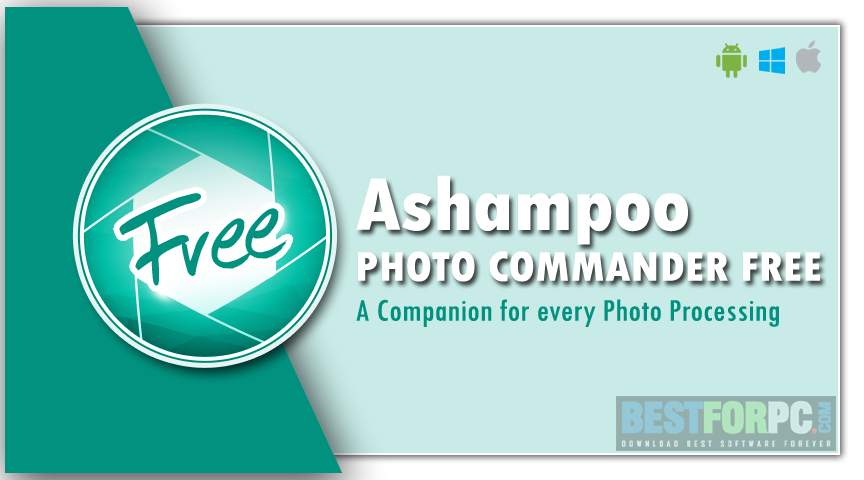 Ashampoo Photo Commander Free Download
Download Ashampoo Photo Commander Free for Windows PC from Best for PC. 100% Safe and Secure ✓ Free Download (32-bit/64-bit) Latest Version.
Ashampoo Photo Commander Free Download
An absolute free application for image viewing, organizing, converting, editing, and sharing, Ashampoo® Photo Commander Free is probably the only tool that could help you achieve what is required for every processing of your digital photos. It can also manage your audio and video files stored on your Windows PC using superior integrated players. Like the other similar apps (e.g. Picasa, FastStone Image Viewer), Ashampoo Photo Commander Free Download allows you to view your digital photographs anytime, organize them in different ways, make several enhancements using editing features, and publish online directly from the app as well. It also serves as a photo converter for you, which is not found on most similar apps out there. It performs splendidly in all processes, totally free of charge. So if you are seeking simple software that can do more of your thinking, then download Ashampoo Photo Commander Free Review today.
A simple photo viewer with a simple user interface along with an intuitive approach. However, the interface is somewhat messy that could be a hindrance for users initially. Ashampoo Photo Commander is unified with menus, side-panes, ribbons, and wizards within its interface. You can see various menus, icons, and buttons with a central content screen for the tools you need. The three separated dashboards have content in the center, a preview on the right side, and a folder menu on the left. These three panels can be resized easily according to your preferences to make them slightly better for using and navigating. If seeking a professional photo editing tool, try Adobe Photoshop CC, the giant of photo editing.
On Photo Commander's top panel contains two menus where different app features are provided. Various options like File, Edit, Undo, Redo, and others are in the first menus, and multiple functions such as Create, Quick Fix, Organize, and more are in the second menu. Generally, beginners would find the app's layout overwhelming at the beginning, yet gradually after using it constantly, they can get familiar with its functions a lot. Overall, users of any experience level can quickly get the most out of Ashampoo Photo Commander. You can customize view modes to make handling easy. This photo editor has minimaps that allow you to scroll into large images without requiring you to drag separate scrollbars.
As a photo organizer, Ashampoo Photo Commander enables you to organize all your images on your Windows PC without an effort. At the outset, this app shows you all details of an image, allowing you to access metadata, for example, the name, size, aspect ratio, date, format, and GPS data. As a result, you can identify duplicate files quickly to delete images or rename them. View your pictures in the central panel of this app; at the same time, add titles, tags, and ratings to all your photos. Make collection, view by folder or date, and view your images' thumbnail previews. You can use the keyword-based search bar in the app, letting you search for your pictures to organize and edit all photos easily. The face-recognition feature is missing, which is a must to an app in this category, hoping developers may get it back to the users.
Ashampoo Photo Commander Free Review offers more image management, editing, and presentation tools than you think. It can help you get rid of image noise and compression objects, as well as you can control the colors and contrasts of an image within one click. There is a built-in auto-optimization that fixes imperfect photos instantly. You can eliminate spots, scratches, and people's red eyes as well. Bring precision to your picture, make adjustments to brightness, color temperature, and gamma values using various manual settings through simple sliders. Furthermore, you are allowed to use filters to enhance picture quality, use tilt-shift and object overlays, add effects, text, and shapes, increase or decrease contrast, and more. There is a popular color-splash effect to use. You can also try this free software to edit photos, GIMP.
Ashampoo Photo Commander Free Download offers many effects to add an individual note to your pictures. Augment your pictures using symbols, comments, speech arrows, or bubbles with text. You can make photo collages with skillful composition. Talking about image management, Photo Commander Free comes with a range of features to assist you, making it effortless to create photo albums and collections. With the right tool, find duplicate files, rename them, add tags when previewing, convert images, and use GPS information to make collections in this software. You can burn your photos to CD or DVD (check, Ashampoo Burning Studio FREE for burning discs). Customize filter and group settings for image collections to find them quickly at a later date.
This photo editor allows you to show or share your images as a presentation with your beloved ones easily, make slideshows with many features along with videos, GIFs, and PDF files. You can use the slideshow feature with the eminent Ken-Burn effect and make eye-catching camera pans and zooms, which will bring novelty to your images. With the included Create mode functions, you can make greeting cards, contact cards, calendars, HTML albums, and collages. You can also batch-print your photos or convert them into contact sheets. And lastly, to publish or share photos with several functions on your requirements under the Organize and Common modes. Email your images to friends and family, or share on social sites like Facebook and Twitter right from the app. Send files in a batch, export images in various formats including PDF, print images directly, and more using the tool.
On a conclusive note, Ashampoo Photo Commander Free Download is probably the only app you require to process everything for images. Managing, Organizing, editing, converting, sharing, printing, and whatnot all are covered by this single app. It is lightweight, and no system resources are taken up as well. No slow down or system crash at all while operating any process. It is an appropriate tool for both newcomers and professionals.
Key features at a glance-
Photo collection managing, organizing, and search for photos
Intuitive wizards to work with the best possible results
Adjust images automatically to save your time with the most visual clarity
Get back the quality of your photos, eliminate interrupted image noise, scratches, and others.
Use as many vivid image effects as you want
Image conversion in different formats
Create photo collages, calendars, greeting cards, or more.
Publish online or share with the people that matter through email.
Technical Setup Details of Ashampoo Photo Commander Free Download: 
Software Full Title: Ashampoo Photo Commander Free
Software Version: 11.2.0
Full Setup Size: 154.5 MB
License: Freeware
Developer: Ashampoo
System Requirements of Ashampoo Photo Commander Free Download:
Operating System (Windows x86/x64): 7, 8, 8.1, 10 & 11
Memory (RAM): Any device compatible with the operating system.
Hard Disk Space (HDD/SSD): OS-Compatible devices.
Processor (CPU): Not Specified.
Graphic Card (GPU): Minimum 1280×1024 or higher.
Ashampoo Photo Commander Free Download
Click on the below download button on this page to get the latest version of Ashampoo Photo Commander Free. Know the requirements carefully and get started. Remember, this app doesn't support any operating system having ARM processors.