Dropbox Free Download
Download Dropbox Free for Windows PC from Best for PC. 100% Safe and Secure ✓ Free Download (32-bit/64-bit) Latest Version.
Dropbox Free
File storing, syncing, and sharing online are now the easiest due to Dropbox, a cloud-based storage tool for us to use on multiple devices. Dropbox is the world's first smart workplace for file storing, management, and sharing via the cloud. A reliable and safe cloud storage platform, lets you work in an intuitional environment. It works as usual like any other folder on your PC, even though it has a few differences. Dropbox is simple and consistent for everyone, allowing one to start storing and sharing various types of files, starting from photos & videos to presentations & tax paperwork from any device. Know that, Dropbox provides 2 GB of storage once you sign up for free. There are Dropbox's paid versions for more than 2 terabytes of storage, and the paid version is more expensive than any other cloud-based storage software like OneDrive, Google Drive, and iCloud. Download Dropbox Free for your PC today.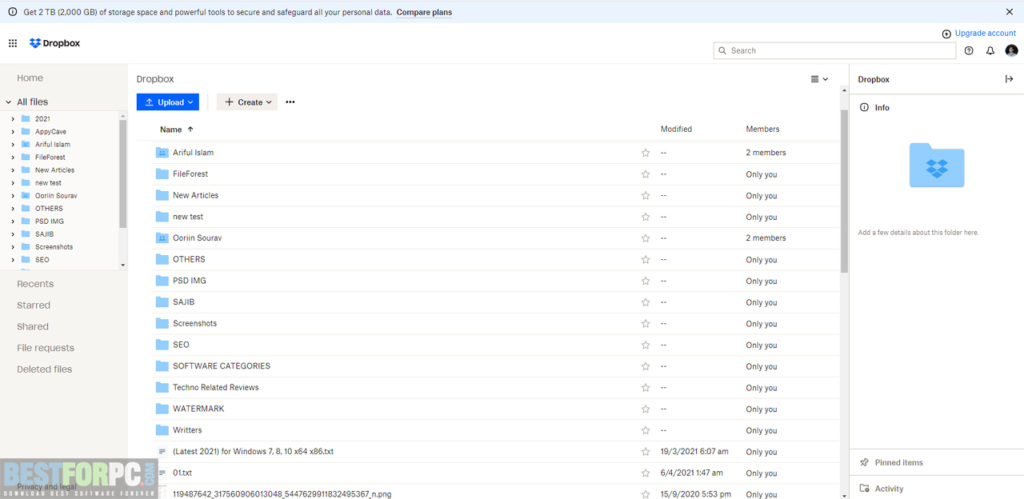 Store and backup anything in Dropbox by uploading photos & videos to it from your phone, SD card, or camera. Drag your file and drop it to Dropbox, just like you usually do. You can copy your file and paste it to Dropbox as well. Once you upload the file, Dropbox saves it automatically, and it notifies you with a Green checkmark appear on top of the file that ensures your file is synced & updated. Then and there your file is in cloud storage, easily access it on your devices using the same account from anywhere. Dropbox Free can get back anything you accidentally deleted files or folders in the past 30 days from its website dropbox.com (Unlimited days for restoration when upgrading to paid versions).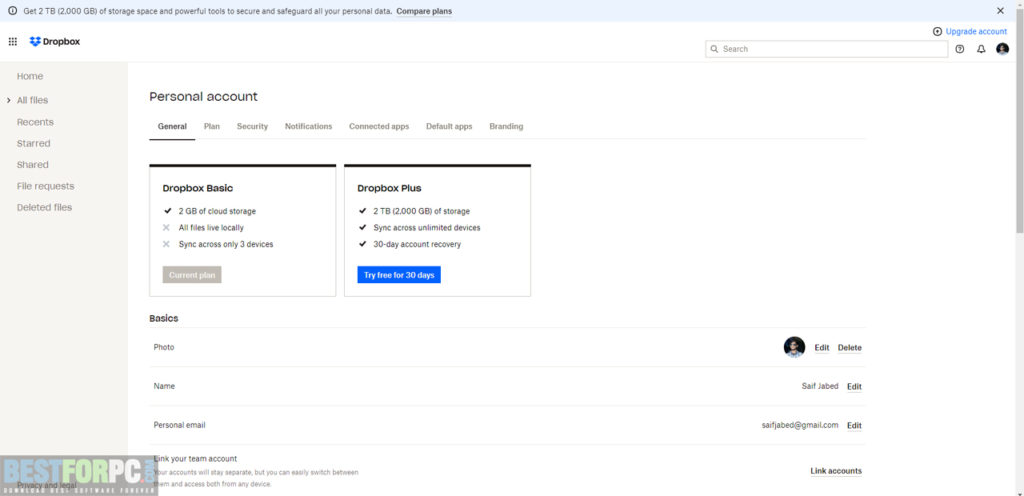 Dropbox's free version means Dropbox Basic enables you to keep your crucial as well as irreplaceable files secure. No worry about your files, they are always secure in Dropbox Free. Though your files are locked on your account with your username and password. Even Dropbox Free uses powerful encryption techniques, and thus your files are secure with SSL (Secure Sockets Layer) and encrypted with AES-256.
Dropbox also lets you share large files with anyone securely, as well as easily collaborate on the files you share. Make a link for any file easily in your Dropbox and paste it within a text, email, or chat then send. Receivers just have to click the link for viewing, or downloading the file you send, without requiring a Dropbox account. Then the links you shared can be previewed above 175 file types as well as you can add comments to the file. About connecting with people and the file collaboration, Dropbox makes them easier to perform. Any files or folders within Dropbox will get synced to its servers and any other PC connected to your account. You can work with Dropbox on any computing device like Windows, macOS, Android, iOS, and even on the Web.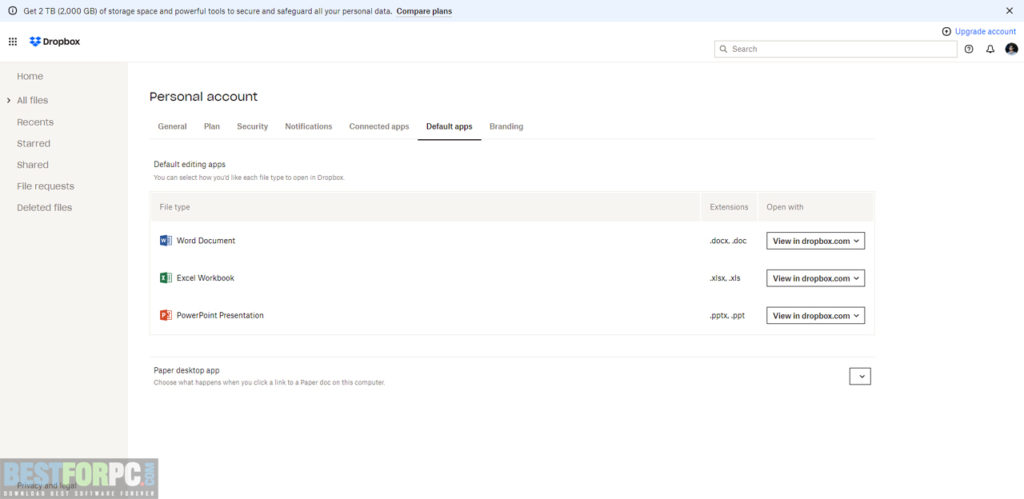 The latest version of Dropbox brought huge improvements to the performance by re-designing the client-side sync engine for optimizing the response time, resource consumption, and scale. Consequently, up to 50% of memory usage has been decreased. The changes made Dropbox more efficient and quick. More to the Dropbox synchronization, where now you can select which folders or files get downloaded on which PCs, as a result, you do not have to sync unnecessary stuff. Alongside, Extended Attribute Sync is available where supports resource forks and other new extended attributes. Last of all, Dropbox Free improved user experience by re-designing the initial setup wizard for making it easier to commence with Dropbox.
So this is what Dropbox Basic is till now. It is one of the best tools at what time you are in search of a cloud storage solution. However, there are other similar apps like Google Drive offering more free storage than Dropbox Basic, but when the performance matters, you should go with it.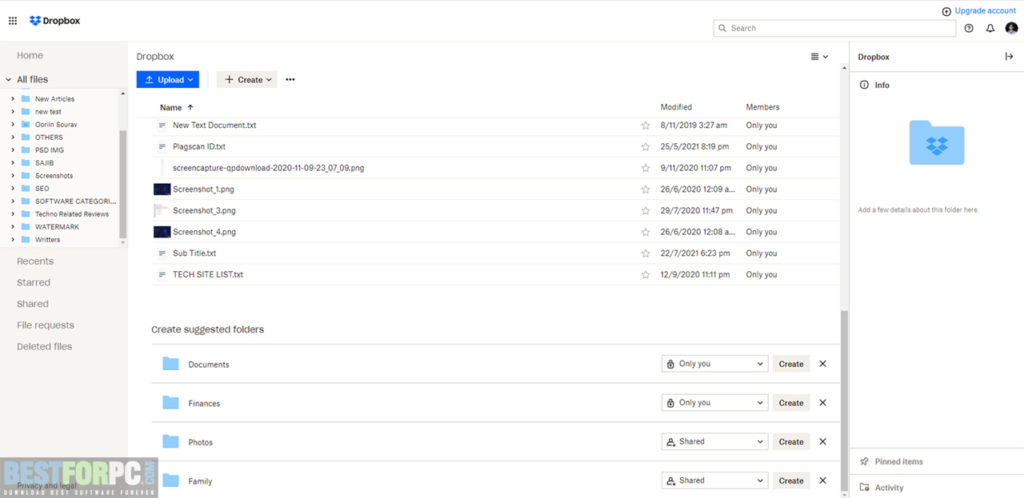 Technical Setup Details:
Software Full Title: Dropbox Free.
Software Version: 129.4.3571
Full Setup Size: 135 MB
Software License: Freeware
Software Developers: Dropbox
System Requirements:
Platform (OS): Windows 7, 8, 8.1 & 10 (32-Bit & 64-Bit)
Memory (RAM): 2.00 GB required.
Hard Disk Space (HDD/SSD): 1.00 GB required.
Dropbox Free Download
To get the latest version of Dropbox Basic, click on the down button. Remember, your PC ought to have enough space that the software required. Both x86 or x64 computers are compatible with Dropbox.