Ultracopier Free Download
Download Ultracopier Free for Windows PC from Best for PC. 100% Safe and Secure ✓ Free Download (64-bit) Latest Version.
Ultracopier Free Download
While the standard copy option of Windows misses the mark, a great software solution like Ultracopier could help you out. Ultracopier is open-source software licensed under GPL3 (GNU Public License) that replaces your PC's so-called copying or pasting functions, causing uncountable time consumption for any kind of transference performed. This app has been designed to make it fast, and all these tasks can be done with just some clicks. It also helps you manage files on a regular basis. No matter if you are a novice or an advanced user, it can help you out from all the problems you face during copying or moving files. So, download Ultracopier on your PC; it supports multiple platforms (e.g., Windows, Unix, Linux, Mac, Android, and so on) and is a lightweight tool, taking not so many system resources, not causing any crashes, and not losing you data where Windows does.
Ultracopier comes with a simple user interface along with an intuitive layout all around, making it rather easy to understand. It integrates with Windows Explorer and takes care of all the responsibilities of copying and pasting. It manages transfers of large-sized files and folders more reliably and efficiently than Windows Explorer. You can run Ultracopier from its icon on the PC or can simply copy and paste media files, normally as you do. Easily copy, move, and transfer any files to a destination folder. You can opt for the input and output folder, start the operation, and wait for the app to finish its job. You can see all the details about the file or folder that is being moved, including transfer speed rate, file size, see percentage of completion, etc. You can create and view the entire file list, and you can modify how these are copied. You can also this free file manager, TeraCopy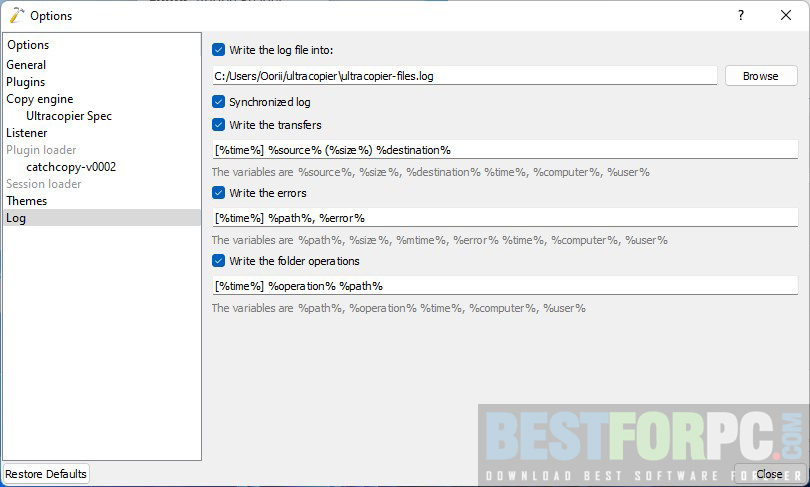 Ultracopier Download, apart from just copying/pasting, includes several new options, which come in handy during any process. Tasks that are running can be paused and resumed at any point, and even you can skip specific files or stop the process completely. Additionally, it has got error and collision management, meaning during any copy/move process, if any kind of error or collision occurs, then Ultracopier will help you manage them. It finds out all possible internal and external errors and shows you in-depth information, allowing you to go for the fixer, for example, overwrite if newer, always overwrite, etc. You can use an on-error resume so that you can start again and get it done with no errors. This app features an extensive "Options" part containing different customization settings, allowing you to select your preferred languages.
All in all, Ultracopier is an advanced tool that is a great solution for users of any level, thanks to its simplicity and flexibility. Compared to other similar apps like FastCopy, this app is not as fast as them, but its advanced yet simple features make it a worthy option when you need it. However, Ultracopier is available with a premium, Ultimate edition that comes with a lot of possibilities, like professional support, speed limitation, more customizability, option for better performance on compatible OS, checksum, community, etc. So, if you aren't satisfied with the free version, you can elect the premium one.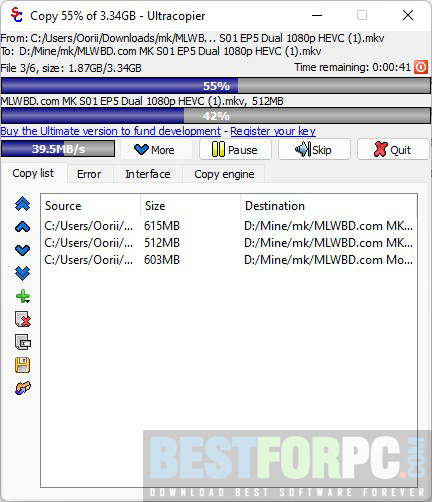 Feature Highlights-
Supercopier Skins
Speed information
Error management
Collision management
Copy list management
Ultracopier Free Download Technical Setup Details: 
Full Software Name: Ultracopier Free Download
Software Version: 2.2.6.1
Full Setup Size: 15.3 MB
License: Freeware
Developer: Brule Herman 
Ultracopier Free Download System Requirements:
Windows OS (32-Bit & 64-Bit): Compatible with all Windows OS versions.
Memory (RAM): 100 MB RAM.
Hard Disk Space (HDD/SSD): 50 MB of available space.
Processor (CPU): Not mentioned.
Ultracopier Free Download
Download Ultracopier 32-bit or 64-bit for your PC from this website and get started with copying and pasting files better than your PC's.