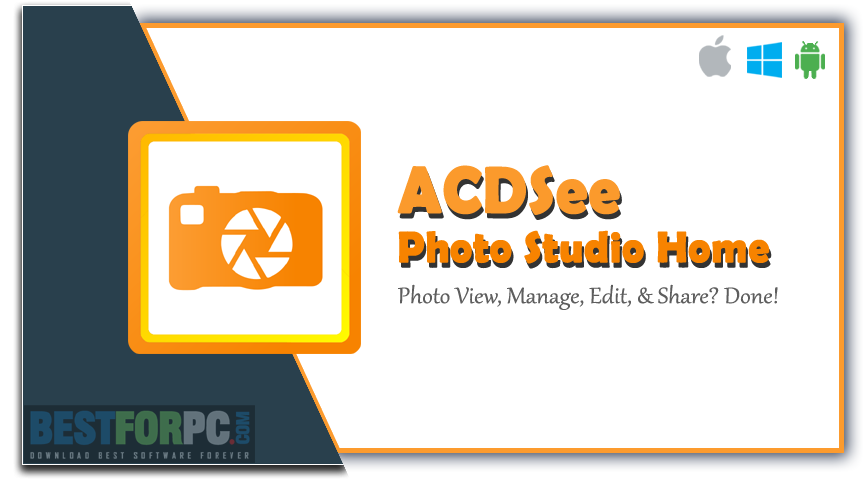 ACDSee Photo Studio Home Download
Download ACDSee Photo Studio Home for Windows PC from Best for PC. 100% Safe and Secure ✓ Free Download (32-bit/64-bit) Latest Version.
ACDSee Photo Studio Home
Doing everything with photos on a single platform, which is really an uncommon activity. Yet ACDSee Photo Studio Home is able to make it happens. What you need to do with your photographs, view them, manage, edit, and share, everything is there designed for you to offer full support. However, ACDSee Photo Studio Home is meant for unprofessional photographers, but it is a feature-loaded, experienced photography tool that helps you with various ways to do all things without putting any kind of pressure on your computer. An expressive way to turn out to be an expert photographer. ACDSee has the ability to make all kinds of smart changes to photos possible with a short-term process. So do not wait, get started with this powerful photography tool. Download ACDSee Photo Studio Home, and work in one place by performing every needed element of the process of creative photography.
ACDSee Photo Studio Home 2022 is a versatile, complex software for Windows PC that aids you view photos in multiple formats, manage your photo collection, edit them perfectly the best, and share with the people that matter. This application has an imposing collection of automatic functions in order to keep up your workflow, again, new filters for creative enhancements, and fast access to the software's cloud technology as well. ACDSee Photo Studio 2022 Home got a clean and well-organized user interface. With easy navigation editing and others become easier than ever, besides the app performs every process faster. Once you enter the photography app, the multiple panels will let you view the structure of a folder, certain pictures, and metadata, besides preview photos. You will also discover a few buttons, some tabs, and a menu bar that let you access every existed option easily, like View, Manage, Edit, and more.
Photo Management with ease
No more struggling when managing your photographs. With ACDSee manage your images in an intelligent way to find them whenever you need them. Thanks to the Digital Asset Management Tools (DAM) provided with ACDSee Home 2022, making everything finding, managing, moving, arranging, and sharing photos is a piece of cake. The available DAM tools with this app are the best than any offered any other similar apps on the market. Users of any level of skill can easily get the most out of this strong and easy-to-use module.
ACDSee Photo Studio Home 2022 for PC lets you work with various modes, as a result, it is now become easier to operate managing or editing. All because of the superior file management capabilities, everything is right there. With ACDsee's Manage Mode, no need to upload or import photos. Rather, add categories, customizable color labels, hierarchical keywords, location data, ratings, and tags at ease. You can get files from your coworkers or team via OneDrive or Dropbox, or even back up available work by accessing right to the cloud sync root drives.
Media & People Mode- the time saver
One of the included Media modes, an option to interact directly with the photo database of ACDSee and working becomes no waste of time. The folders you have either sorted within the database or browsed in Manage Mode, view and access them with ease. The other way, the People Mode, which is new to the Home edition, is intended for working as the industry-leading Face Detector & Recognizer, plus contains the ability of machine learning. It is an AI (Artificial Intelligence) engine, which places a name to a face effortlessly. It enables you by the management of people by renaming, merging, or faces deleting, or even by taking help from the AI for the labeling ideas to group same unnamed people.
Editing Complexity? No Chance
ACDSee may perhaps seem complex initially, but it will become easier in a matter of time. It allows you to edit using enhanced tone curves, gradients, and brushes, and updated noise reduction, get the perfect result you want. It offers adjustments for fine-tuned with precision filters as a toolkit, improve the color of your photo with the powerful color correction tools, such as Color EQ, Split Tone, etc. It has the ability to control any imperfection geometrically, with cropping, resizing, flipping, and rotating tools.
Correct any of the faults in your photos, throw away flaws, blurriness, noise, red-eye, and clarity. You can even add text, borders, watermarks, drawings, and vignettes to your photos. ACDSee Photo Studio Home offers Light EQ, the patented technology, making it possible to lighten certain areas of your photo with no further affectivity. At the same time lighten areas that are excessively dusky, and even reduce the brightness of the areas that are excessively bright. You just pick your photo, make changes and improvements and achieve the result that you desired.
Edit on PC, Send to Mobile (Mobile Sync)
ACDSee Home offers a mobile synchronizing facility, syncing through the app right from the PC to your device and send or receive photos and videos wirelessly and immediately after editing or to edit on the mobile. Scan the QR Code on the screen of your PC with your mobile's camera, that's it the devices will be synced quickly. This is the easiest way to send or receive photos or video from mobile to PC, keeping track of the transferred photos always.
ACDSee Photo Studio Home supports camera RAW files. Choose RAW files to work with. From a wide array of selected cameras, you can pick up RAW files. With the Home version of ACDSee, loads of camera support have been given with more than 500, and even the number of camera-support is getting higher. It includes Nikon, Canon, Sony, Olympus, Panasonic, Samsung, Pentax, and Go-Pro, which are a few of them, for more information check here.
After completing your project, share with the people you want. Although the sharing process is quite difficult, hope for the future if developers bring improved sharing. All in all, ACDSee Photo Studio Home is a great tool for photographs, mostly due to the reliable effective DAM tools combined with editing needs for the photo, for the productivity-based improvements, and more, letting users from every walk of life to enjoy easiness. Download this ACDSee app and get the fundamental components to enhance your photography workflow.
Feature List of ACDSee Photo Studio Home 2022
With the Digital Asset Management & Productivity it offers-
People Mode to recognize & manage people in your collection and Media Mode for viewing and accessing the database of this app.
Quick launching, database maintenance, working with keywords & categories, RAW decoding, and mode-switching.
Supports more than 200,000 ISO in cameras via Nikon, Sony, Canon, Pentax, etc. Even supports RAW images of GoPro, which work right from the app.
Work with all the most common images file formats. RAW image support for editing. Plus, SVG file format support. ACDSee also added HEIF file decoding support for image & image sequences
Batch Rename for many files renaming dynamically and efficiently. Plus, Batch Resize for many images resizing to any dimension, according to the percentages or pixels, and along either as an edge or print size.
Watermark Tool for more accurate watermarks to your images, especially helpful for the batch of images.
Cropping many images is a matter of time, thanks to relative positioning functionality.
Quick Search with Toggle Options, letting you find images much faster even in a large database.
Online support to get help online you need for your work. Press F1 at the time you are doing any work in the app and it will take you to the related online help page.
Just for 64-Bit PC- face data importing from Adobe Lightroom, letting you save the effort of image renaming of everyone. Else ways, Facial Recognition will find any faces matching with the database of ACDSee. Besides, the Face Detection & Facial Recognition tool helps find the people in your images and name them makes it fast to search by name.
Use the various fast keyword sets. Even export lists of keywords and share them with others. Save your precious time by importing established keyword lists without manual entry.
Duplicate Finder to identify duplicate files in the database, delete or rename straight from there.
Multiple Image Baskets to make baskets with up to five images for gathering & holding images and media files directly from your hard disk. Separately image baskets naming and using them for viewing, editing, or sharing easily will be done here too.
Auto advance to the next image by adding metadata prompts ACDSee, organizing whole folders become effortless.
Customize this app completely, by tearing off, moving, stacking, docking, and hiding whatever you want to do with the panes and toolbars to enhance your workflow efficiency. Use existing customizable hotkeys to whip through your management for all stages of your workflow.
Add location in photos, then recall and view the information for reference whenever you like. Use the map and choose a portfolio of files for more workflow steps, plus choose images to display in the View mode.
Tools for the best photo edits-
Improved Noise Reduction, Gradient & Curve control for more beautiful images
Color EQ (brightness, contrast, saturation, hue, etc.), using them adjust complete colors in your photo or even adjust each color separately. Using the advanced tools subtly fine-tune and improve colors, or totally change separate colors in your photos.
Split Tone lets you tint highlights and shadows without destructive edits.
Automatic red eyes removal from your photos' faces.
Remove blemishes and mistakes easily without blending, strenuous, or targeted color corrections.
Add your favorite border to your images with its color, thickness, and texture customization. Add a vignette, and the correct opacity, size, and color to suit your mood.
Using special effects change your simple photo to a stunning one instantly, easily achieve pencil drawing, Bob Ross-style painting, collage, and loads of more unique ones.
The Tilt-Shift effect from ACDSee Photo Studio Home lets you make emphasize to precise subjects in your images, and get the outcome to appear like miniature landscapes.
Image rotation using preset or custom angles, vertical & horizontal image flipping, and image resizing with dimension adjusting, as well as the aspect ratios and resampling filters.
Either the entire image or any specific area, easily adjust exposure, contrast, and fill light, using Exposure tool, and its Edit brush, or Gradient tool for limiting the exposure adjustment where occurs.
There are levels for adjusting the light levels and contrast to your images specifically, and the other way the auto levels adjust the exposure levels to your images automatically.
Use the white balance tool and give your images more warmth or cool look by eliminating unwanted hue.
Give black & white effect to your image, increase, or decrease each separate color's contrast, and correct the brightness also.
Color LUTs; a built-in tool of ACDSee for color grading your images effortlessly, even import and give LUTs as filters.
Improve medium & high contrast edges and get sharpen photos. Besides, there are various types of blur to apply in your photos.
Noise adding to your photos when preserving details that you want to hold.
The polygonal selection tool helps you choose around edges and irregular shapes for your images.
Add customizable text to your images, change font, style, size, color, justification, opacity, and others.
In the last instance, you just read the review out, right? So, consider how the software is powerful for photo editing, all because of its comprehensive tools and services. For additional tools try the Professional and Ultimate editions of ACDSee Photo Studio, or if satisfied with the Home version download it now.
What's new in the latest version-
Just for 64-Bit PC, in People mode, got easier name putting to a face using an AI-driven mode.
In Media mode, browse and filter with an eye-blink speed using the new database-driven view of ACDSee to access formerly searched folders.
SVG file format support, just for Windows 10 or 11 PCs.
Added squareness slider to Radial Gradients
RAW support was added for seventeen new camera models.
Compressed Fuji X-S10 RAW file decoding
Added High ISO support for Nikon, Sony, Conon & Pentax
Selection preview button
Enhanced Noise Reduction, Curve Control, Gradian Control
A few issues were fixed.
Technical Setup Details:
Software Full Title: ACDSee Photo Studio Home 2022.
Software Version: 25.0.0.1868
Full Setup Size: 168 MB (32-Bit) & 230 MB (64-Bit)
Software Developers: ACDSee.
System Requirements:
Operating System (MS Windows): 11, 10, 8.1, 8, 7 (Service Pack 1) (For 32 Bit or 64 Bit).
Memory (RAM): 4 GB RAM (Recommended 8 GB or more).
Hard Disk Space (HDD/SSD): 2 GB of available space.
Processor (CPU): Intel® or AMD® processor (Recommended Intel® i5/ AMD Ryzen 5 processor or better)
Display Resolution: 1024 x 768 pixels (Recommended 1920 x 1080 pixels)
Download ACDSee Photo Studio Home
Go ahead, click on the following download button on this page to get ACDSee Photo Studio Home. Free trial for 31 days, after that you have to subscribe to its license for a one-time purchase, visit.