AK-Player Free Download
Download AK-Player Free for Windows PC from Best for PC. 100% Safe and Secure ✓ Free Download (32-bit/64-bit) Latest Version.
AK-Player Free Download
To fit the modern world of today, most of the media players have been complicated to use and the reason behind this is due to new compression algorithms and multiplex ecosystems. And it is rare to be found a media player offline-based, alongside playing Flash content with no connection is another trouble. Most of the users don't prefer these types of problems on their steady media playing. That's why there comes a free media player like AK-Player, keeping all the troubles behind and letting you enjoy media files exactly the way you prefer. It is a cool multimedia player for PC users, developed by Aknak. You could think AK Player is an ordinary multimedia player, but it has been designed with a beautiful graphical interface along with a modern way so, you can feel a great appearance when playing media files. So download AK Player for your Windows PC now.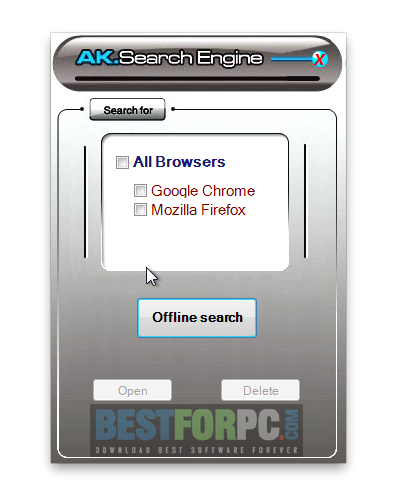 AK-Player runs powerfully and provides you extra options and opportunities besides playing media files. And the best part, you can play audio, video files and display images at the same time. This free multimedia player supports performing audio, video playing, and image viewing as well. Plus it supports all the most common file formats to run within this media player, MP3, WMA, CDA, WMV, AVI, FLV, BMP, JPG, MPEG are a few of the instances. The search engine of AK Player will scan your PC and find you every supported file in seconds. All thanks to the dual media player engine, and the compatibility with almost all available formats, you are all set to play your next video or music, and even play multiple files at once. Organize your files with the built-in playlist of AK-Player and handle 2 different playlists on 2 independent screens as well.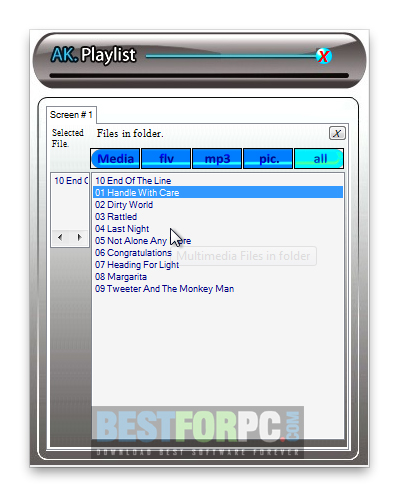 At the beginning of AK-Player, you will see the control panel that empowers you to control everything about the media player. Load media files into it directly from the file browser by selecting or easily can be dragged and dropped files to the media player. Play music or video, stop or pause anytime, switch to full-screen mode, adjust the volume level, mute or unmute, zoom out and in, and even make a playlist of your favorite ones. AK Player gives you the authority of global volume control as well, so you can modify the global volume of all media files on your PC. You can make an automatic search on your PC hard disk to find and play streaming videos offline from media sites like YouTube.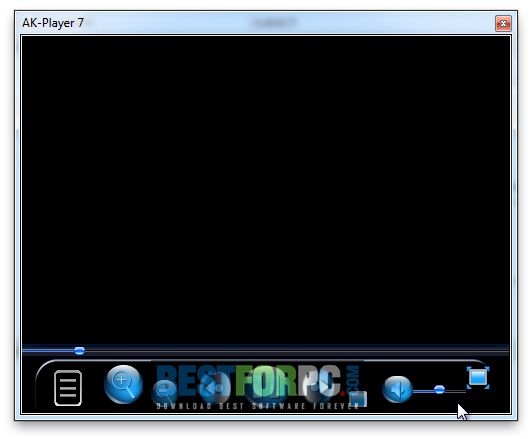 AK-Player enables you to watch a video and listen to a song from your desired internet sites, even with no connection. Also download media files through this free media player from your desired media sites, such as YouTube to play offline in the future. Play cached YouTube content offline, plus view more and more images in AK Player for free.
So this is what AK-Player is that may perhaps seem an ordinary media player, but once you get into it you will experience how the media player works so powerfully for free with so many possibilities and functions. It is very much lightweight and even lets you listen and watch any audio and video streaming online or offline from various sites. Load multiple media files in different windows at once and control contents in different windows at once as well. Alternatively, there are more powerful media players, but online-based, VLC Media Player or KMPlayer so if you want can check.
Software Information & Requirements:
Software Full Title: AK-Player.
Software Version: 7.3
Full Setup Size: 223 KB
Software Developers: Advanced Knack.
Operating System (MS Windows): 11, 10, 8, 7, XP, Vista, 2000 (For 32 Bit or 64 Bit).
Download AK-Player Free
Click on the following download button on this page to get the media player. Enjoy your day by watching movies, making a beautiful atmosphere play songs, and more with AK-Player.